21 Startups and 4 Trends You Need to Know Now | Digital – Advertising Age
See on Scoop.it – News in Social Networks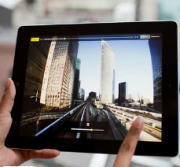 The tech-startup world is one of constant development and rapid innovation, and it's hard to keep up. Here are four emerging categories and the startups within each to keep your eye on.
Founded by former photographer and video journalist Danfung Dennis, Condition One offers a video technology that changes how people create and view video for mobile devices.
The software is designed to give viewers the feeling that they're "there," right where the video was shot. As viewers turn their phones to the left or right, the perspective and frame of reference shifts with them — as if they were behind the camera looking in either direction.
This isn't video that can be but rather is meant to be viewed on mobile devices, taking full advantage of the fact that users can move and manipulate their phones, something they can't really do to their TVs. The use cases range from 360-degree tours of car interiors to creation of remote-participation experiences for concerts and sports games.
See on adage.com